If you are looking for an all around the house steamer to help you not only in some of your chores but also in some of your projects.  Do I have the steamer for you!!
I was recently given the chance to try out the HomeRight C800880 SteamMachine Steamer for Steam Cleaning and Wallpaper Removal
  Here's mine right out of the box.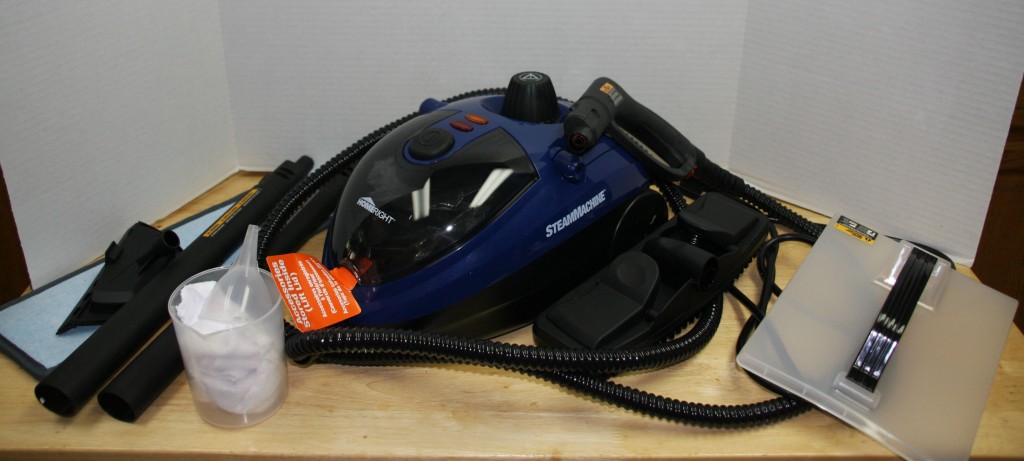 Isn't it just awesome looking.   Look at all those attachments and accessories.  When I first opened the box and started taking stuff out I was like –
"Oh, this is too much stuff.  I'm never goin' get this figured out.  I'm just goin' put it back in the box and deal with it later."
There's even more attachments in this handy little storage area.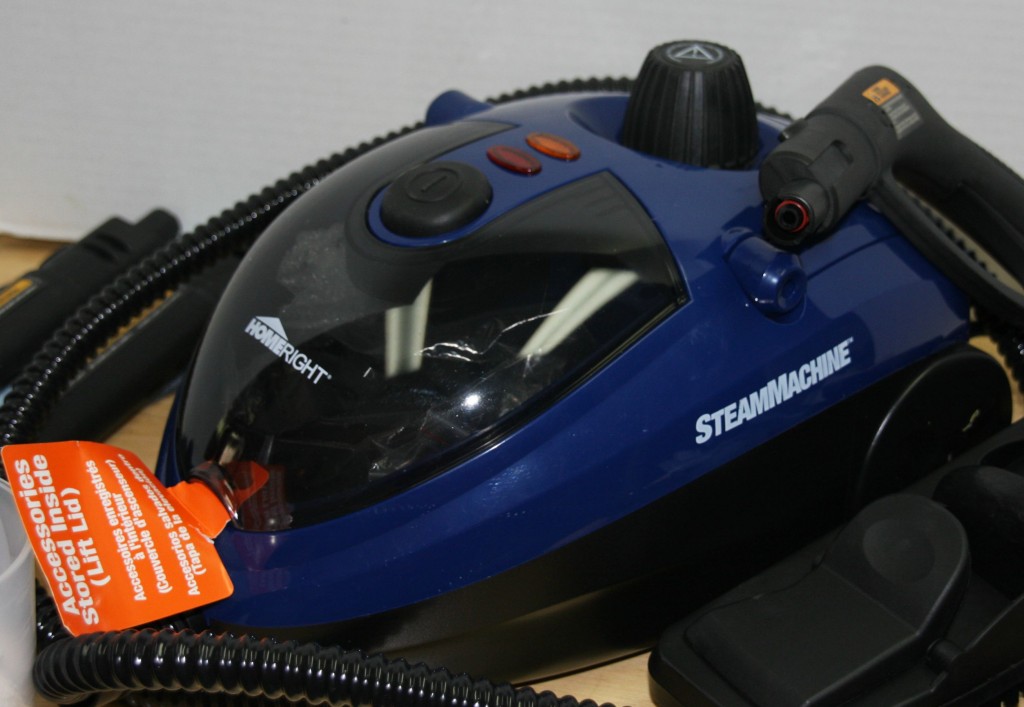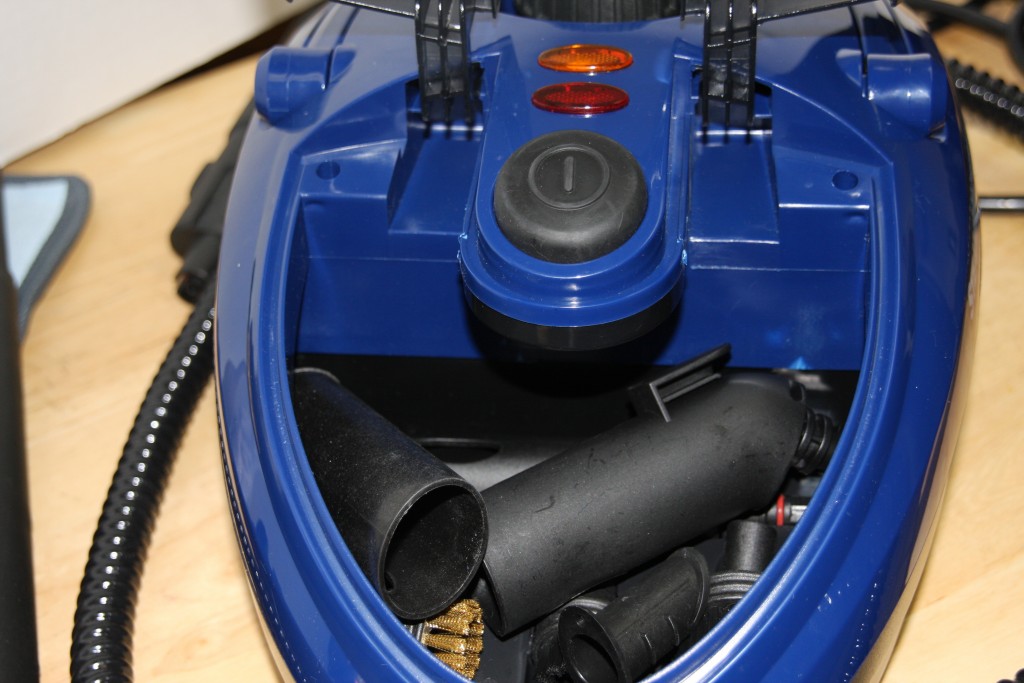 You name it and there is an attachment to clean it.
BUT – I'm trying really hard to keep trying new things and not fear the unknown.  So remember our mantra girls –
Do Not Fear The Power Tools – Respect Them!
So I went on with it.  My goodness – To my surprise –  Nothing could have been easier.
Look at this handy wallpaper remover attachment.  Going to be using this bad boy in a couple of months when we start the master bath redo.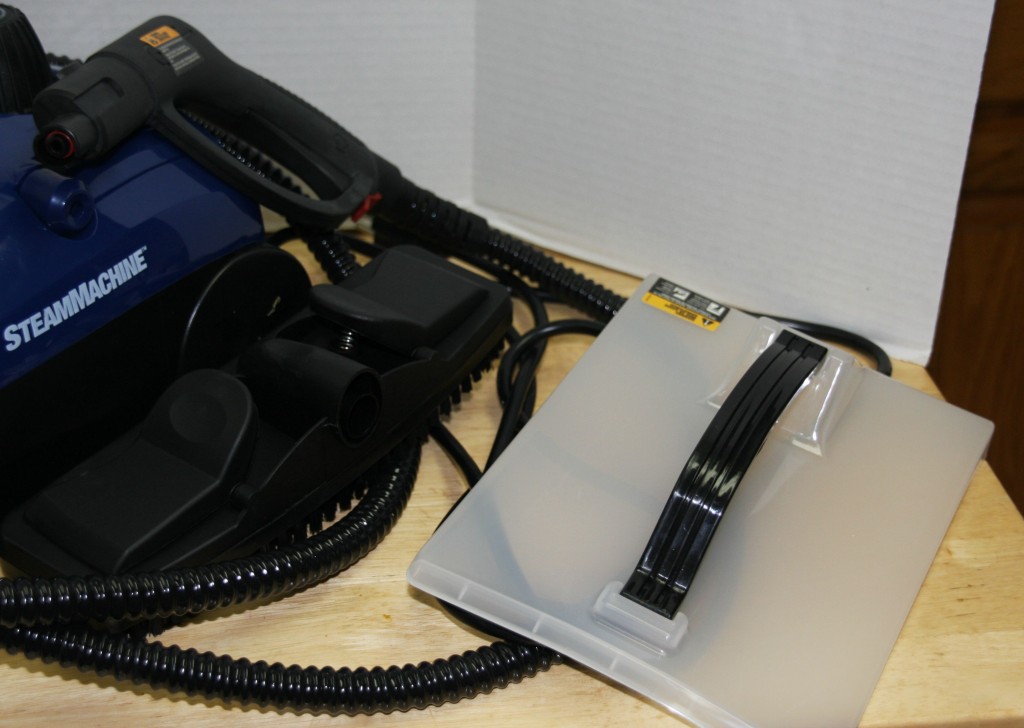 I didn't have time to start a big project today but I had a perfect little project for my steam machine virgin self.
I had picked up a box of wood samples at the Habitat for Humanity Restore when I was visiting my friend, Cynthia Ann Jackson from SomebodyLaughed.com.    I thought they would make cute signs to take to Warrenton or put in my Etsy store.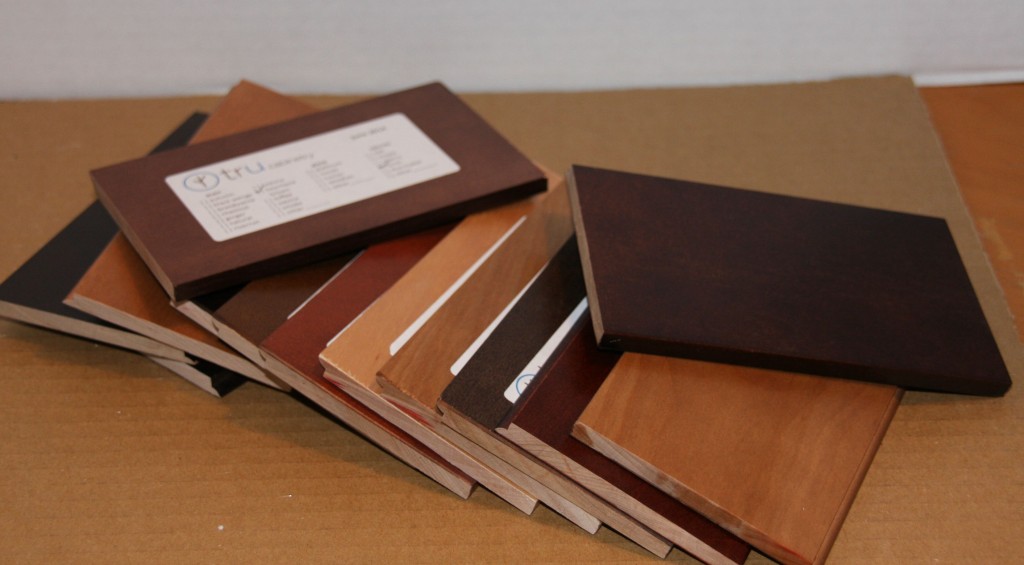 Notice the big sticker on the back of each one.  Trust me, they were stuck on.  I thought I would try out this handy little HomeRight SteamMachine and see what it could do for me.
Easy, Easy to fill and operate.  We have pretty hard well water, so I used Ozarka Spring Water instead of the tap water.  They do recommend distilled water if you have hard water.  I'll be buying some next time at the grocery.
I pushed the ON/OFF button and let the water heat up.  Took less than 8 minutes.  I used the Nylon Brush attachment.  It just snapped right on and I was in business.
The first few boards, I ran the nozzle up and down the sticker and then used my fingernail to rub all the sticker off.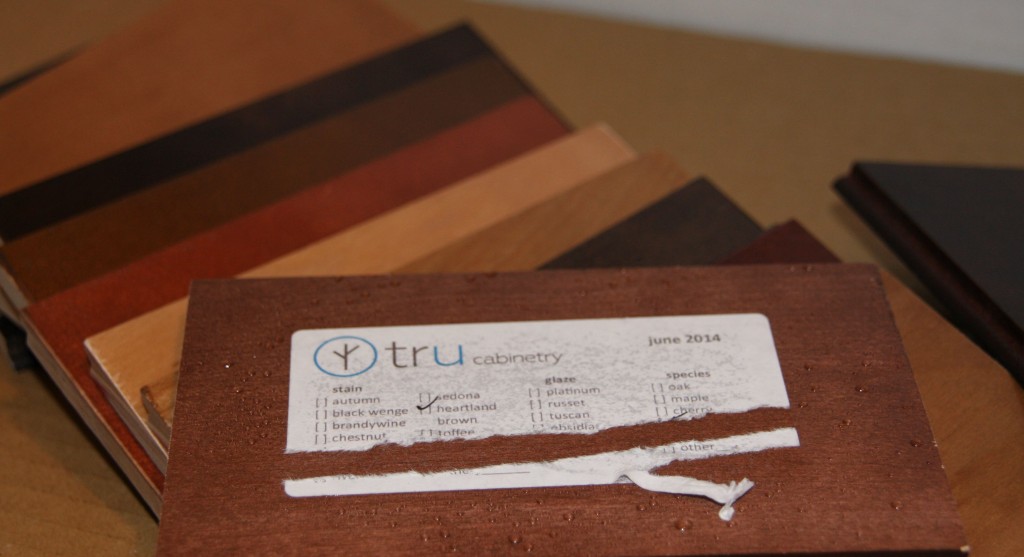 After I got the hang of the steamer, I then started rubbing the nylon brush all around the sticker and it was much, much quicker.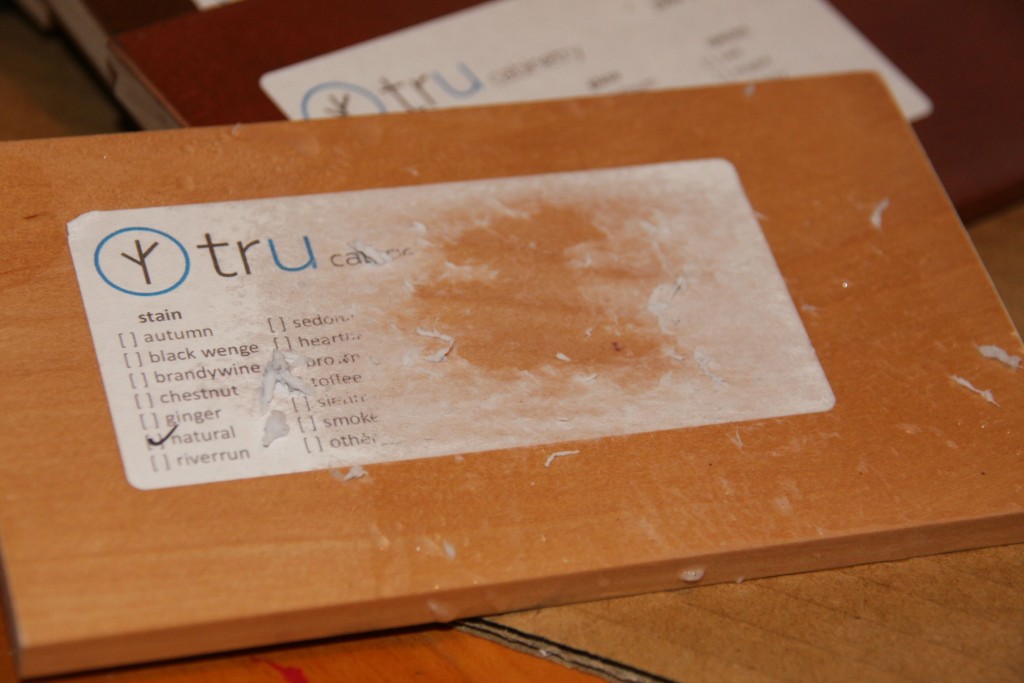 I removed the stickers from all these boards in less than 10 minutes.  If you've ever dealt with removing these big sticker you know how long just removing one would take.  I would have never completed this project if I was removing them without the aid of the steam machine.
Now, the steam machine didn't remove the glue, it just removed the paper.
I had to take some GooGone to the backs but that only took another 10 or so minutes and they were all clean.
I whipped up some vinyl lettering for my signs on my trusty Cricut Explore (if you don't have one of these – get one) and ta-da I have a great set of signs to sell or give away.
Speaking of giving away – I think I'll just do that.  Here are all the signs that I created using the wood samples cleaned with my HomeRight SteamMachine and vinyl lettering off my Cricut Explore.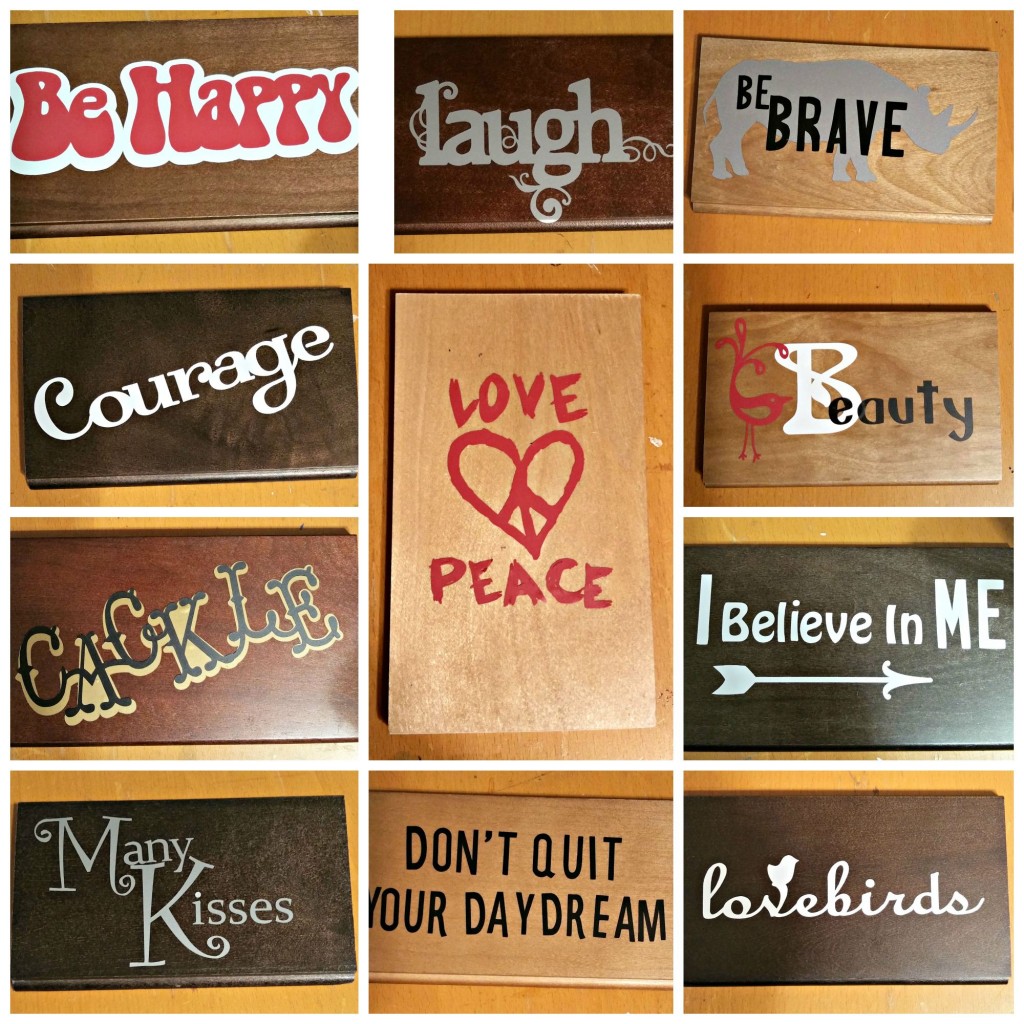 Everyone who comments on this post and likes my Facebook page will be entered to win their choice of any one of these signs.
Good luck!  Contest ends August 30th.  The remainder of the signs will be in the Etsy shop after the contest is over.
Stay tuned for my next project using my new best friend – HomeRight SteamMachine.