It's called Five Minute Friday. Each week, we write freely on a one-word prompt. Then we link up at the amazing Kate Motaung's site. It's a flash mob of writers- having fun and sharing their take on one word. This week's prompt is FIND.
The grandsons are visiting this week, their last week of summer vacation, and I had promised them that I would teach them to ride their bikes without training wheels during summer break.  This was my last chance to get that done.
Grandpa raised the training wheels on one of their bikes so that they only hit the ground if they lost their balance and then he had to head to the hardware store.  Grady and Sterling manned their helmets, knee pads and elbow pads – YES, Grandma is over protective.
They wanted to wear their flip flops and I told them NO.  They had to have on solid shoes.  Back in the house they go and they are digging in the closet to find their Grandma Tennis Shoes.  YES, they have their own room (and bathroom) at Grandma and Grandpa's and I try to make sure that they have everything they need.  They have shoes and clothes and toothbrushes that stay here.  Not to mention all the toys, books, games and craft supplies.
Anyway, they come back out with four feet and only three tennis shoes.  They can't "find" the other shoe.  That works for right now because, we only have one bike with raised training wheels.  One boy has on two shoes and the other has on one shoe.
I worked with them, one at a time, trying to keep the training wheels off the ground.  When one got off, he gave his brother the left shoe and we continued.  Grandpa is still gone, so I take the training wheels off the bike.  The three shoes are not a problem yet.
They get the hang of riding the bike without the training wheels in no time and with minimum damage to themselves.
Now comes the problem, both bikes now have no training wheels and they just want to ride – ride – ride.  Solution?  One rides with two shoes and the other rides with one shoe and one sock.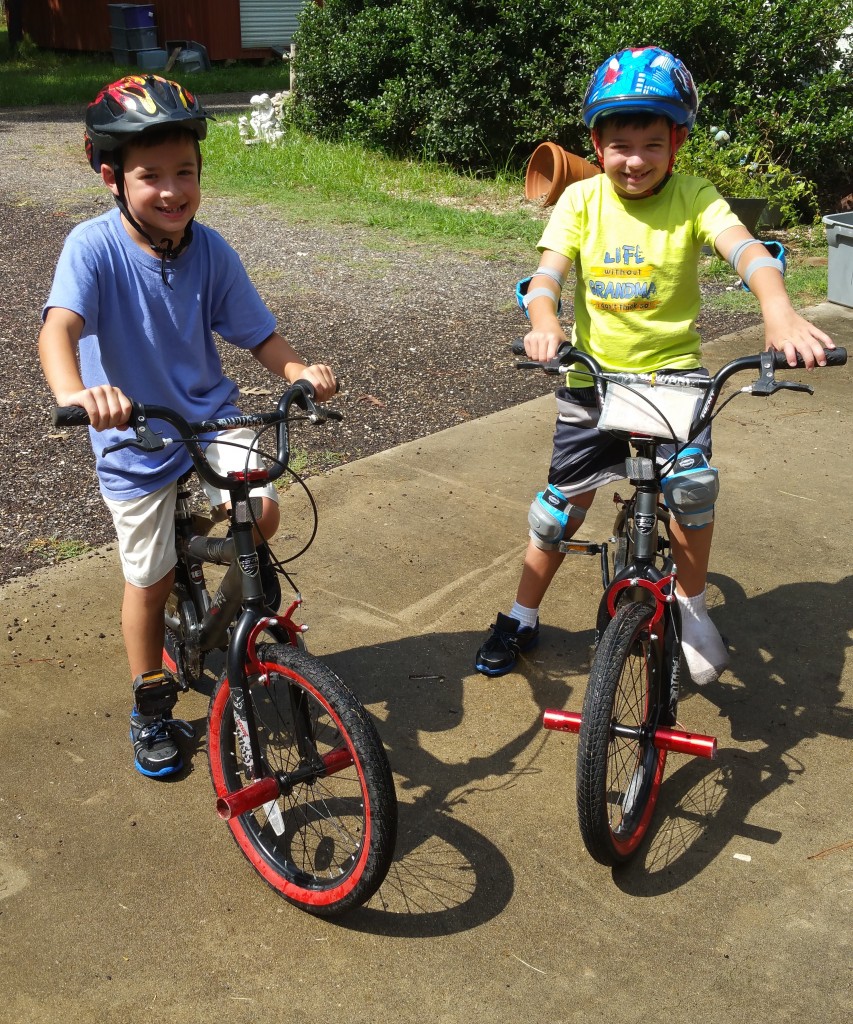 Day Two is spent riding bikes up and down our very, very long driveway.
Day Three, today, they want to ride on the street with Grandma and Grandpa.  We told them, they had to find the missing shoe first.  It was a miracle – Grady looks under the bed and there it was!  Now we have four shoes for four feet and four wheels instead of eight.
Love having twin grandsons!