It's that time of the year when Cookie Swap invitations start to show up in your inbox. It is so much fun to get some of your girlfriends together in one kitchen and not only swap cookie recipes but swap funny stories on each other or your family. When the flour starts flying through the air and the sugar starts to hit the floor, you don't even notice the mess because the love and friendship you are sharing is the most important thing of the day. When the day is over, you not only have a few dozen of the best cookies ever made, but you have another great day of memories to put in your life book. cookie swap.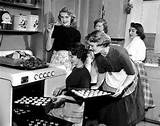 Today I propose that we do a Cookie Swap here on the blog. We can't all get together (physically) in one kitchen but we can still share our favorite cookie recipes and a funny story or two.
I'll start this Cookie Swap off here on Living Unfocused.   As you all know, I grew up in a barn (well, almost anyway).  All my extra time was spent with a horse and not in the kitchen.  I did get my cooking badge in Girl Scouts though (I wanted to take a picture of my sash because I still have it – but I can't find it right now – so just pretend there is a picture here).
Although it was over 45 years ago (OMG I'm so old), I still remember making a spaghetti dinner for my family.  And that reminds me of a funny story to share with all of you during our Cookie Swap today.
I cooked this big spaghetti dinner for my family of four back when I was probably around ten.  We had spaghetti and sauce with meat and a salad.  Yes, I'm such a non-cook that I remember exactly what I made that day.  I also clearly remember the green, three legged, plastic colander that I used to drain the pasta.  Here it is.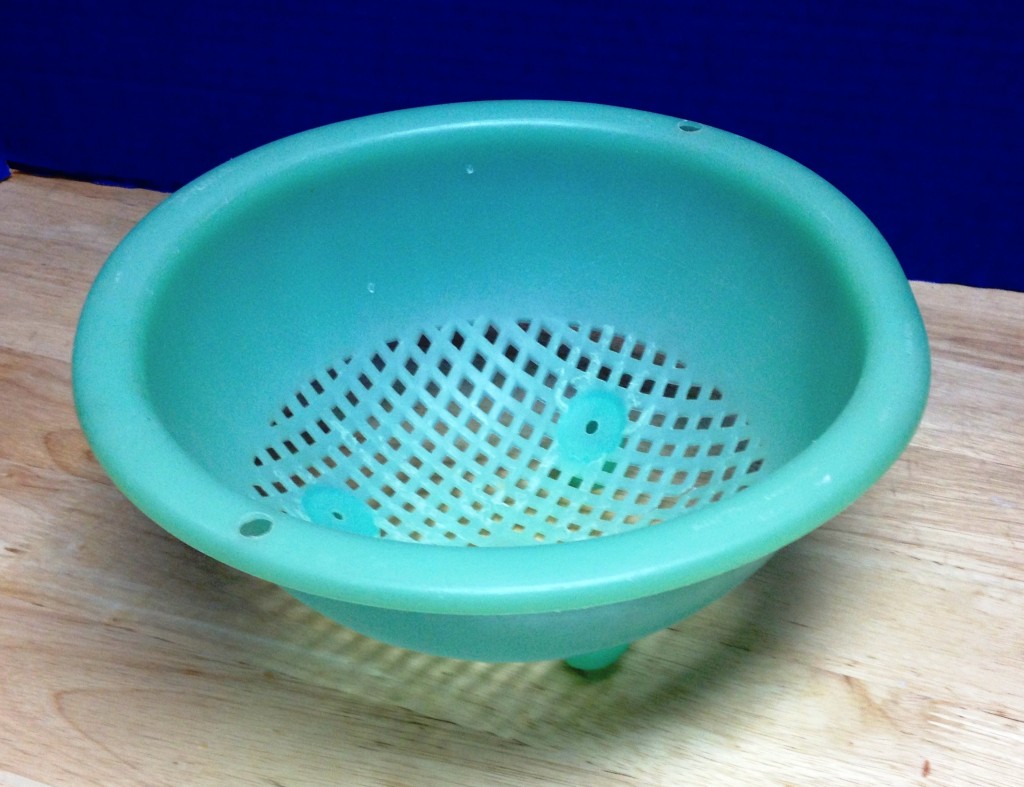 I know, I know – I keep everything.
On with the story.  About 10 years ago, when we lived in Albany, GA, I came home to visit, only to find that my family (without telling me) was planning to have a garage sale and my mom was cleaning out the cabinets.  I walked in my mom's kitchen and there's a box that she has been putting things for the garage sale in.   In this box, was MY colander.  I'm telling you, I came unglued.  I could not believe that my mother was getting rid of something so much a part of my life history.  This thing was like a part of the family.  This colander had been in my family for over 45 years – how could she even THINK about getting rid of it.  Yes, it is old and has a few cracks in it.  But still, do you throw out a family member when they start to get old with cracked and wrinkled skin – I think not!
Since, evidently, this family member loving known as "Strainer/Drainer" meant more to me than it did my mother (I bet this could have even been a wedding gift from someone special given to my mom and dad – who knows).  I quickly and whole heartedly rescued "Strainer/Drainer" and as you can see by the picture (which I just took a few minutes ago) I am still taking care of him today.
How, you ask, are you so sure that this is the same colander that you used that day so long ago when you made your spaghetti dinner for your Girl Scout cooking badge?  Maybe it was replaced over the years with a similar one – it was such a long time, you know.  I can easily answer that question.
When I was cooking that spaghetti dinner I put the colander too close to the burner and I melted one of the legs.  So yes, this is MY good friend "Strainer/Drainer" and he will be with me until the day that I die.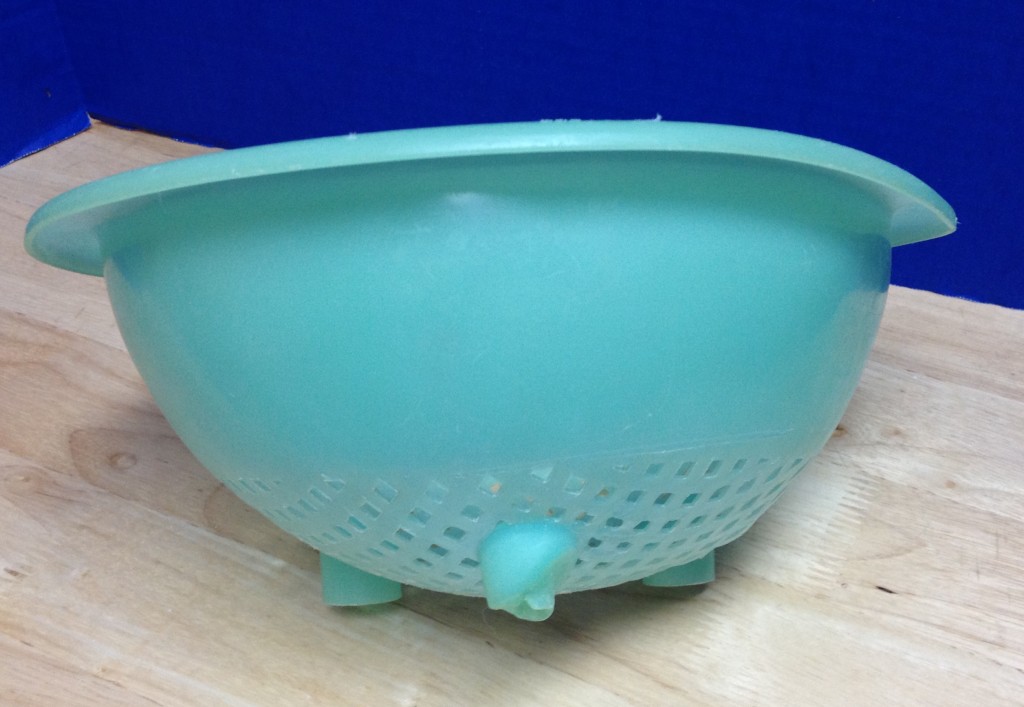 Now, it is your turn to share a funny story with all of us while I show you the wonderful cookies that I created for our Cookie Swap.
I'm not a big fan of sweets and I detest even the smell of chocolate, much less eat it.  I only like peanut butter on crackers and oatmeal is a four letter word.  So when I bake cookies it is usually for others.  For the cookie swap, I decided I wanted to make a cookie just for me (but of course, I will share with all).  I wanted to make a cookie out of my favorite (and probably the only) cookie ingredients that I do like.
Remember I said that I detest chocolate, I do!  But I love white chocolate!  White chocolate is not really chocolate.  White chocolate is made of cocoa butter, milk, and sugar.  It does not smell (thank goodness) or taste like chocolate at all because the two main ingredients in real chocolate are chocolate liquor and cocoa solids of which white chocolate has none.
I also love pecans and coconut.  I put my three favorite cookie ingredients together with a plain old fashioned sugar cookie and My Favorite Things Cookies were born.
Here's how to make them: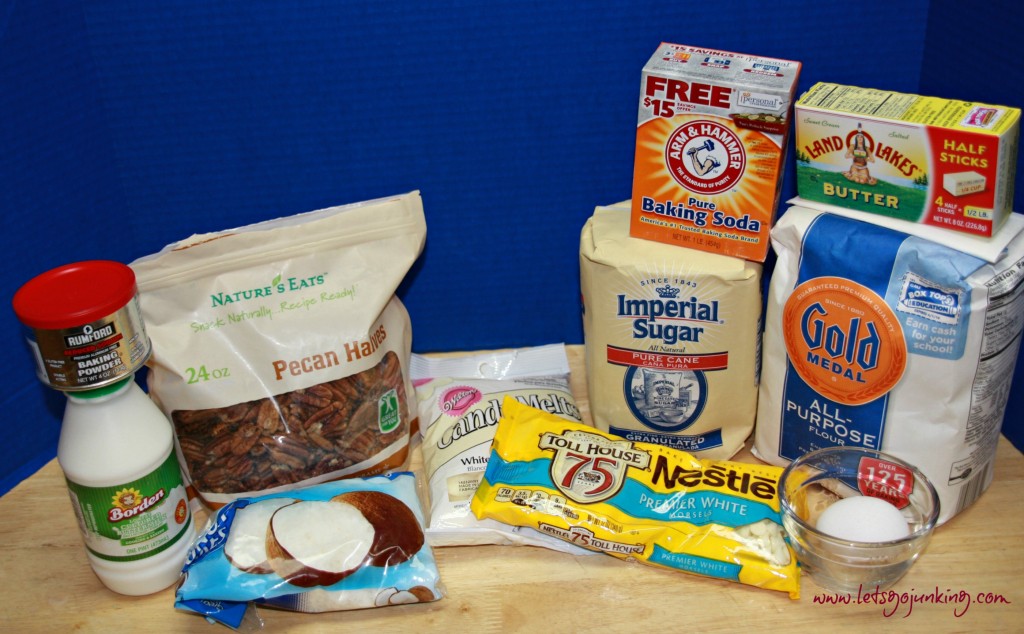 Here's everything you need.  Forget the Candy Melts!  They didn't work for what I wanted to do.  Add powdered sugar and regular milk to your shopping list.
Ingredients for cookies:
2- 3/4 cups all purpose flour
1 teaspoon baking soda
1/2 teaspoon baking powder
1 cup softened butter
1-1/2 cups sugar
1 egg
1 teaspoon vanilla extract
4 to 5 tablespoons buttermilk
1 – 1/2 cups white chocolate morsels
1 to 1-1/2 cups chopped pecans
Ingredients for topping (depending on how many you want to top – you may need to double):
1 cup sifted powdered sugar
1/4 teaspoon vanilla
2-3 tablespoons milk
1 cup of sweetened coconut
1 pecan half for each cookie
Preheat oven to 375 degrees.
In a small bowl combine the flour, baking soda and baking powder and set aside.  In a large mixing bowl, cream together the butter and sugar.  Beat in the egg and vanilla.  When smooth, gradually blend in the flour, baking soda and baking powder, adding just enough buttermilk to moisten the dough to make it soft but not wet.  Add your white chocolate and chopped pecans.
Drop balls onto your parchment paper lined cookie sheet.  I use my Pampered Chef Small Scoop.  It makes it so easy and less mess.  I used a moistened fork to smush the balls down and then placed a pecan half on each cookie.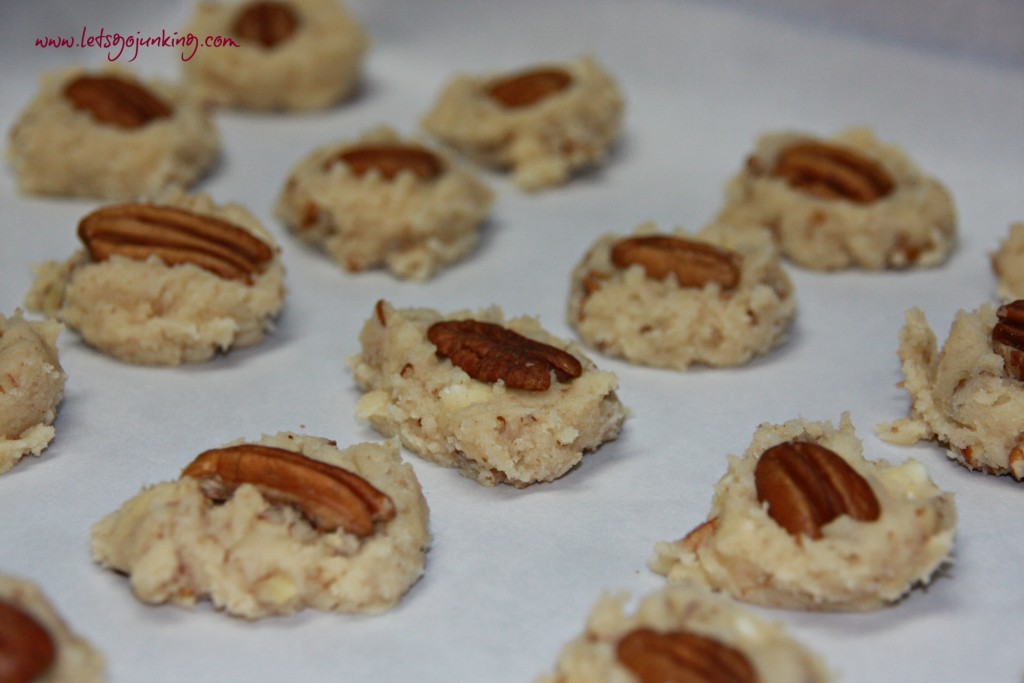 Bake for 12-15 minutes (depending on your oven) or until slightly golden  Let cookies stand for a couple of minutes before proceeding to the next step.
To make the sugar drizzle, combine powdered sugar, vanilla and 1 tablespoon of milk in a small bowl.  Stir in additional milk, 1 teaspoon at a time until it reaches drizzling consistency.  This make about 1/2 cup of drizzle.
When your sugar drizzle is ready, drizzle the tops of your cookies.  Now, drizzling takes some practice so don't worry if your drizzle isn't beautiful like you see in the magazines and on the cooking channels.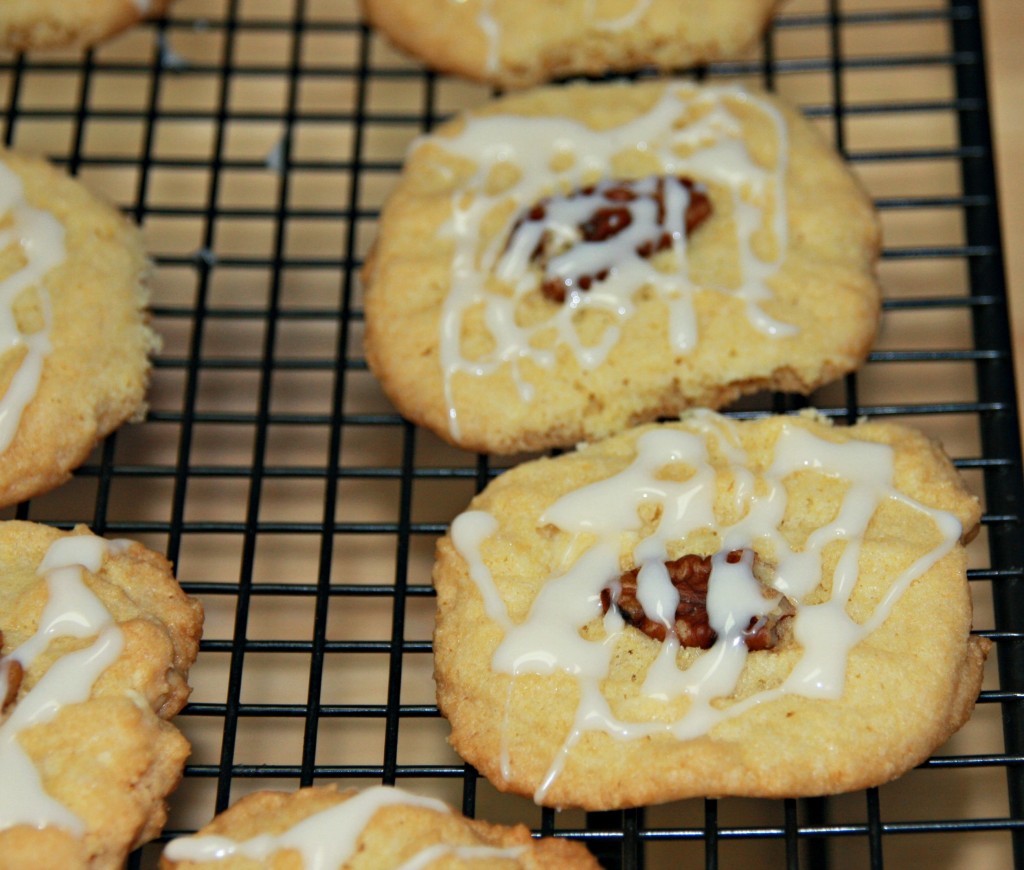 Remember, we are just wanting something to make the coconut stick to the cookie.  Sprinkle coconut over the cookies.  If you are not going to toast them, let them set for a couple more minutes for the coconut and drizzle to mesh and then gently shake the loose coconut off.  If you are going to toast them place them under the broiler for just a couple of minutes.  DO NOT walk away while you are toasting the coconut.  It gets brown fast!
That's it!  You know have My Favorite Things cookies.  They are SWEET!
I present to you:  My Favorite Things Cookies