Don loves pumpkin pie.  Notice I said Don loves pumpkin pie – I don't even like pumpkin pie.  BUT since I love Don, I thought I'd make him the mother of all pumpkin pies.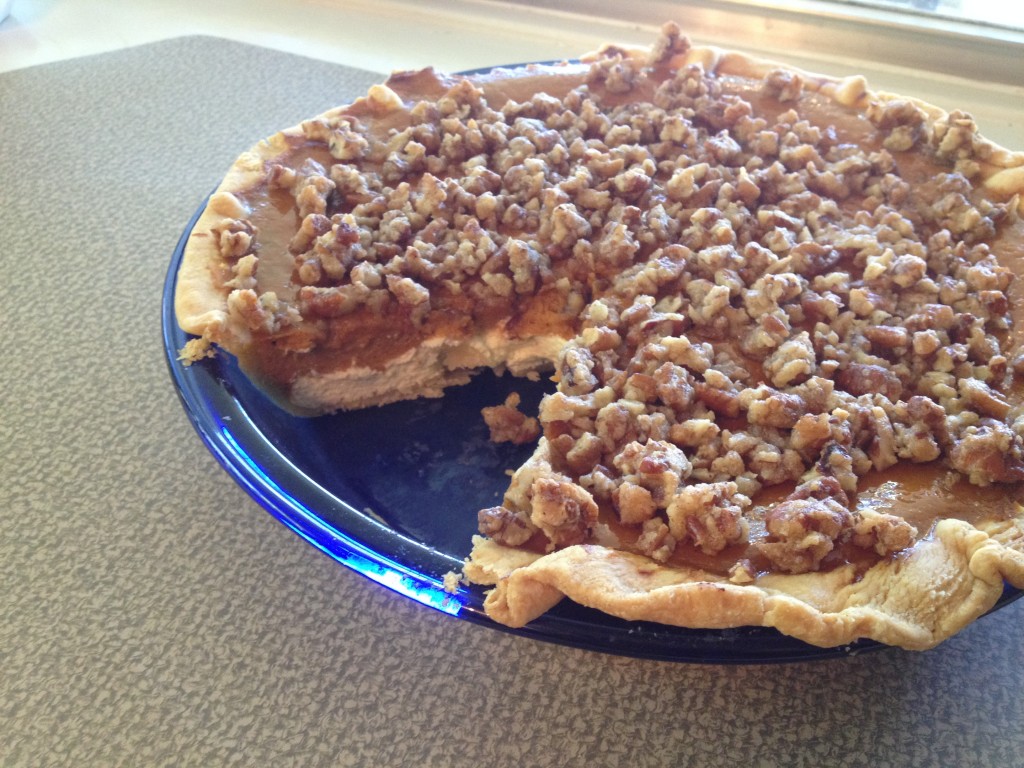 He told me it was truly deliciously Sinful.  I had to give half of it away before he made himself sick eating it.
Try it for yourself during the holidays or just because you LOVE pumpkin pie.

Sinful Pumpkin Pie
Ingredients
1 - 8 oz package cream cheese (softened)
½ cup sugar
½ teaspoon vanilla
1 slightly beaten egg
1¼ cups of canned pumpkin
1 cup evaporated milk
2 beaten eggs (in addition to other slightly beaten egg)
¼ cup + 2 tablespoons packed brown sugar
1 teaspoon ground cinnamon
¼ teaspoon salt
¼ teaspoon ground nutmeg
½ cup chopped pecans
2 tablespoons butter, softened
2 tablespoons all-purpose flour
Ready Made Single Pie Crust OR Make your own
Instructions
In a small bowl, beat together the cream cheese, ¼ cup of sugar, vanilla and the slightly beaten egg on medium speed until smooth. Chill for 30 minutes.
Place pie crust in pie pan and turn cream cheese mixture into the pie pan. Trim pie crust and crimp as desired.
In a medium bowl, combine the pumpkin, evaporated milk, the other two eggs, ¼ cup brown sugar, ¼ cup sugar, cinnamon, salt and nutmeg.
Carefully pour this mixture over the cream cheese mixture you have already place in the pie pan.
Cover edge of crust with foil and bake at 350 degrees for 25 minutes. Remove foil and back for another 25 minutes.
While pie is baking, combine pecans, butter, flour and 2 tablespoons of brown sugar.
Remove pie from oven and sprinkle the pecan mixture over the pie. Bake for an additional 10 minutes or until knife inserted in center comes out clean.
Enjoy!