Today is the first Friday of June and IT has finally arrived!  One of our grandsons' favorite holidays –
National Donut Day
To tell you the truth, Don likes this holiday too!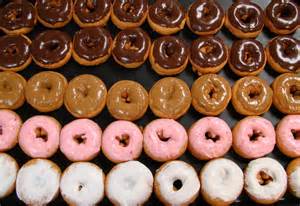 If you don't know the history of National Donut Day, you are probably thinking it is a day that was created by the Donut Industry to sell more donuts.  I mean, who can eat just one donut?  For those of you who like sweets – they are like potato chips.  I'm here to tell you that thought is incorrect.
National Donut (Doughnut) Day was created by The Salvation Army in 1938 to honor those who served doughnuts to soldiers during World War I.  Many donut shops like to celebrate this day by giving away free donuts.
This year in celebration of National Donut Day you can get free donuts from Krispy Kreme, Dunkin Donuts, Shipley Do-Nuts, Winn-Dixie, and more.
Just check with your favorite Donut Shop and see what they are offering to celebrate National Donut Day.
And just so you can prepare you calendar – June 8th is National Jelly Filled Donut Day.  I know the boys are going to want to celebrate that day too!
Get Your Donut On!