I'm inviting all of you to join me in a FUN and very rewarding activity starting October 1st.  I think instead of inviting y'all I'm actually going to CHALLENGE you to join me.
If you've been keeping up with the blog, you have noticed that I have a joined a great group of bloggers/writers who share a quick insight to ourselves every Friday.  It's called "Five Minute Friday".  We are given a word every Thursday night and then we write on the word for five minutes.  We then link our posts up on Kate Motaung's site to share with each other and anyone else who's interested.
Here is the link to all of my Five Minute Fridays.
The Challenge I have for all of you is not just joining us every Friday BUT in October we do this crazy writing activity every day.  Yep, every day.  The list of word prompts was just released so we can get a bit of a head start because we all know that life gets in the way.  Notice that every Friday will still be kept secret until Thursday evening.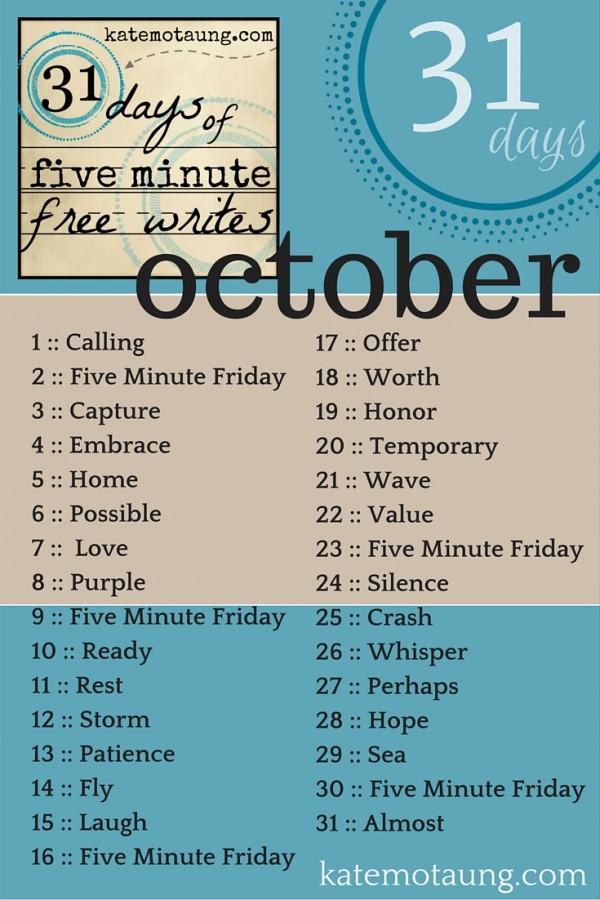 So come on, join in the writing fun.  You don't have to have a blog and you don't have to publish what you write.  Just grab a new journal – label it 31 Days of Five Minute Writings and do this just for yourself.  You will truly enjoy it.
So, what did you learn today?
Not sure what tomorrow will bring but you're never too old to learn something new.  Join me tomorrow to see "What I Learned Today".