Well, I joined this little group and we're suppose to create some new and wonderful gift idea with mason jars.  I'm thinking "I LOVE Mason Jars".  They are so versatile and easy to work with BUT just what hasn't already been done with them. Pinterest and the blogs are full of Mason Jars and there are several books out about Mason Jar Crafts.  This is my favorite one: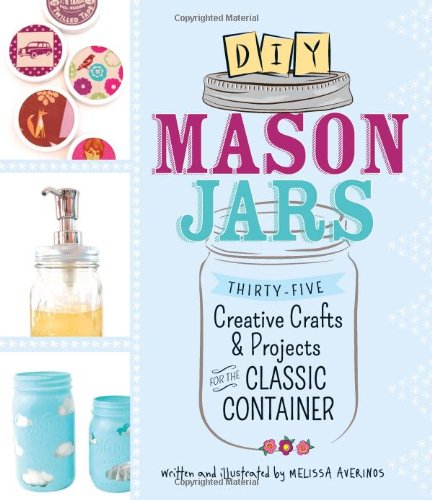 As I pondered my dilemma, I wandered around my craft room and ended up in a closet where I found a folded up piece of vintage cowboy wrapping paper.
As you can see it has been folded up for some time now.  I wanted to use this paper and I decided to put it on my Mason jar but I still didn't know what I was going to do with the jar once the paper was on.  I cut the size I needed and slightly sanded the jar so the Mod Podge would stick and I put that vintage cowboy paper right on my jar.
Now what?  Well, as I sat there continuing to ponder my mason jar that now had cowboys on it, a little story came to mind.  If you know me, you know I'm horse crazy.  They say my first word was "HORSE" and my second word was "SH**" and my momma taught me that second one.
I wanted a horse from the earliest time I could remember.  I begged, I threatened, I pouted, I did everything I could to convince my parents that I needed a horse.  When I was 9, my daddy made my brother and I money boxes.  They had a sliding top so we could take our money out if we wanted to and a slit in the top to drop our money in.  We were able to decorate them however we wanted to.  I painted mine green and decorated it with horse pictures out of some of my horse magazines because that is what I was saving my money for – a HORSE!  My brother painted his orange and red and yellow (I think the mixtures of the red and yellow is where the orange came from) and put question marks on his because he wasn't sure what he was saving his money for.   He's color blind – so I'm not sure he even knew what color he was using.
I remember I saved every penny I could find.  My birthday money went in there too.  That Christmas my parents told me that I could have a horse when Spring came and I remember how excited I was.  I couldn't wait until Spring.
Although I didn't have to pay for the horse, I still continued to save my money because I knew I had to buy brushes and halters and a saddle.  When Spring came, I took my money box to Sears (yep, they still sold farm equipment back then) and I bought a cotton rope halter and brushes for my new horse.  I got my first horse soon after that.  Her name was Molly and I was in heaven.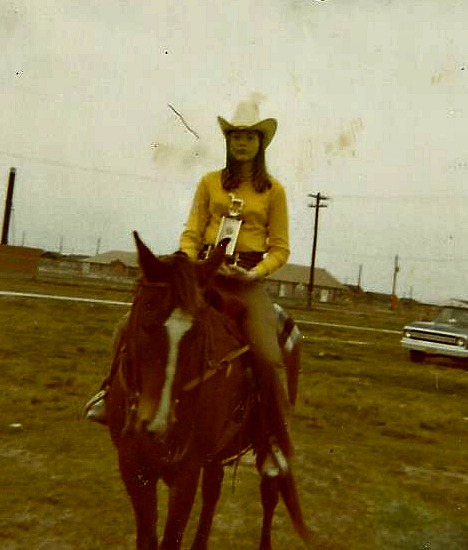 Me and Molly – Winning Our First Trophy
I've owned several horses since then and have had at least one horse in my life from that day on.  That is, until earlier this year when I sold my last horse – Macho Opinion (known to all as Opie).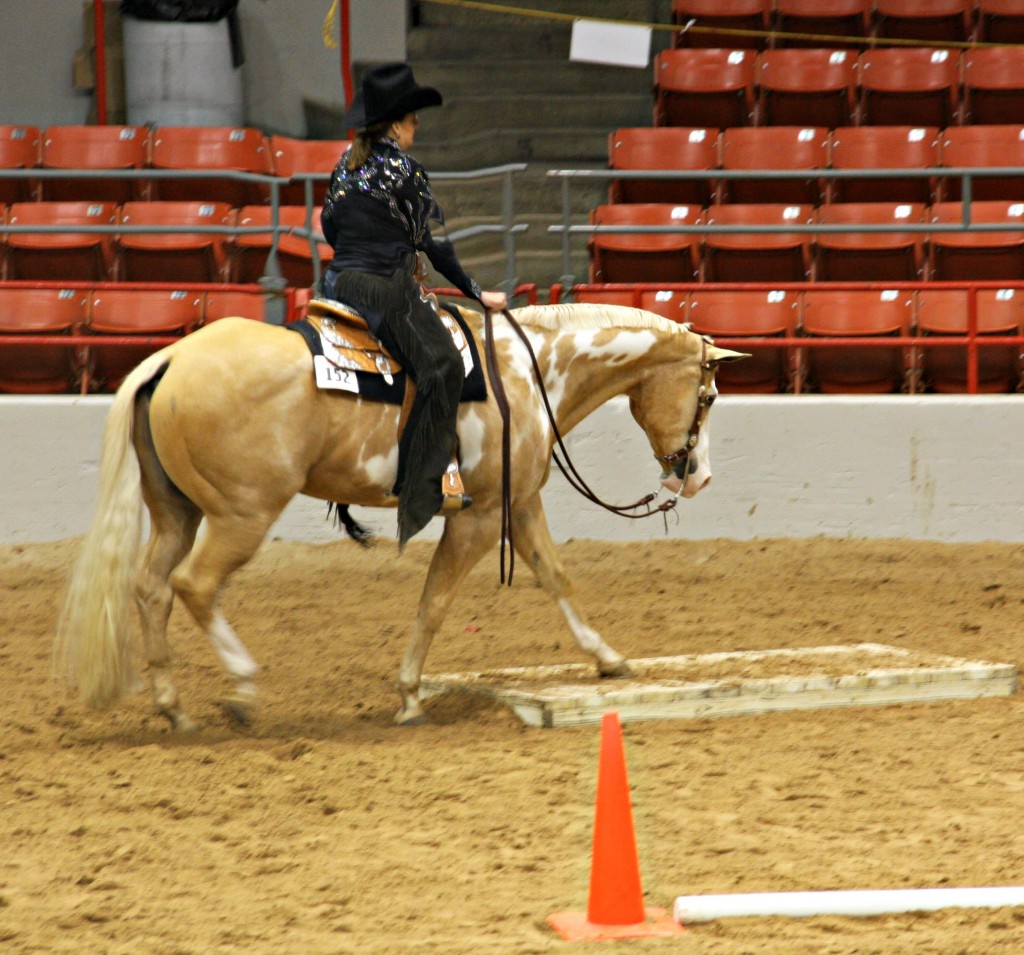 Me and Opie Showing Trail At the 2013 Houston Livestock Show – We won the buckle that day!
Looking at this Mason jar with the vintage cowboys on it, reminded me that I no longer owned a horse.  It made me sad.  I remember how excited that little girl was with her money box full of change and a dream to own a horse.  That's when I decided what I would do with my Mason jar project.  I was going to make it a money jar.  A place to put my spare change in, in hopes of owning a horse again.
I wrapped a couple of strands of rope around the top of the jar but left enough of the neck so I could still screw the lid on.  I painted the jar lid green and sealed it with more Mod Podge.  I then took two chisels and cut a money slit in the lid and finished it off with a pretty bay horse on top (I've always loved a Bay!).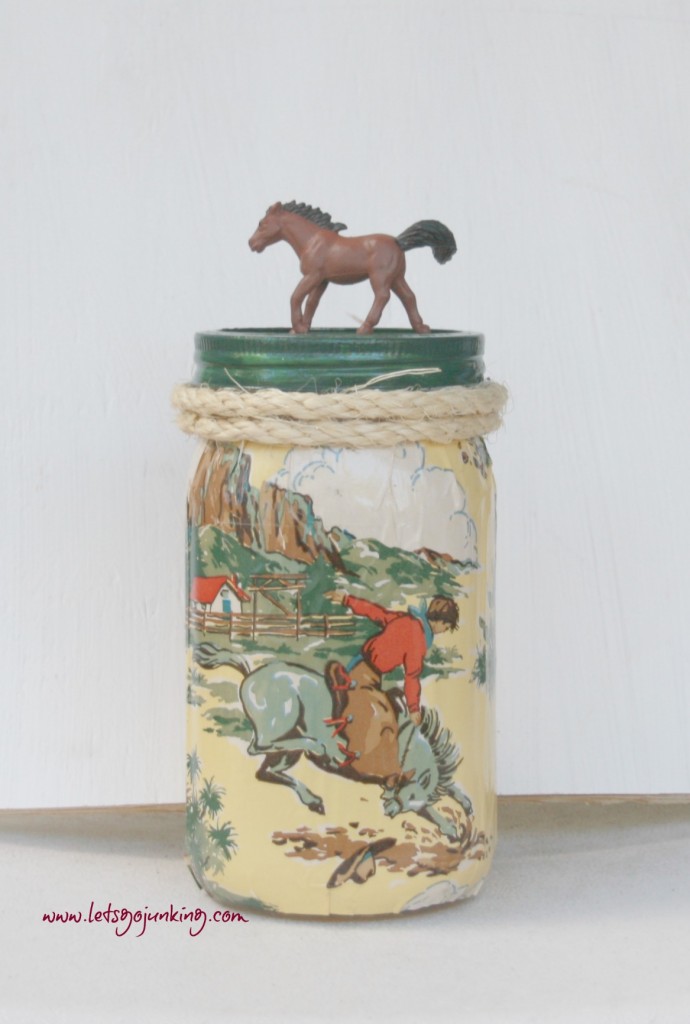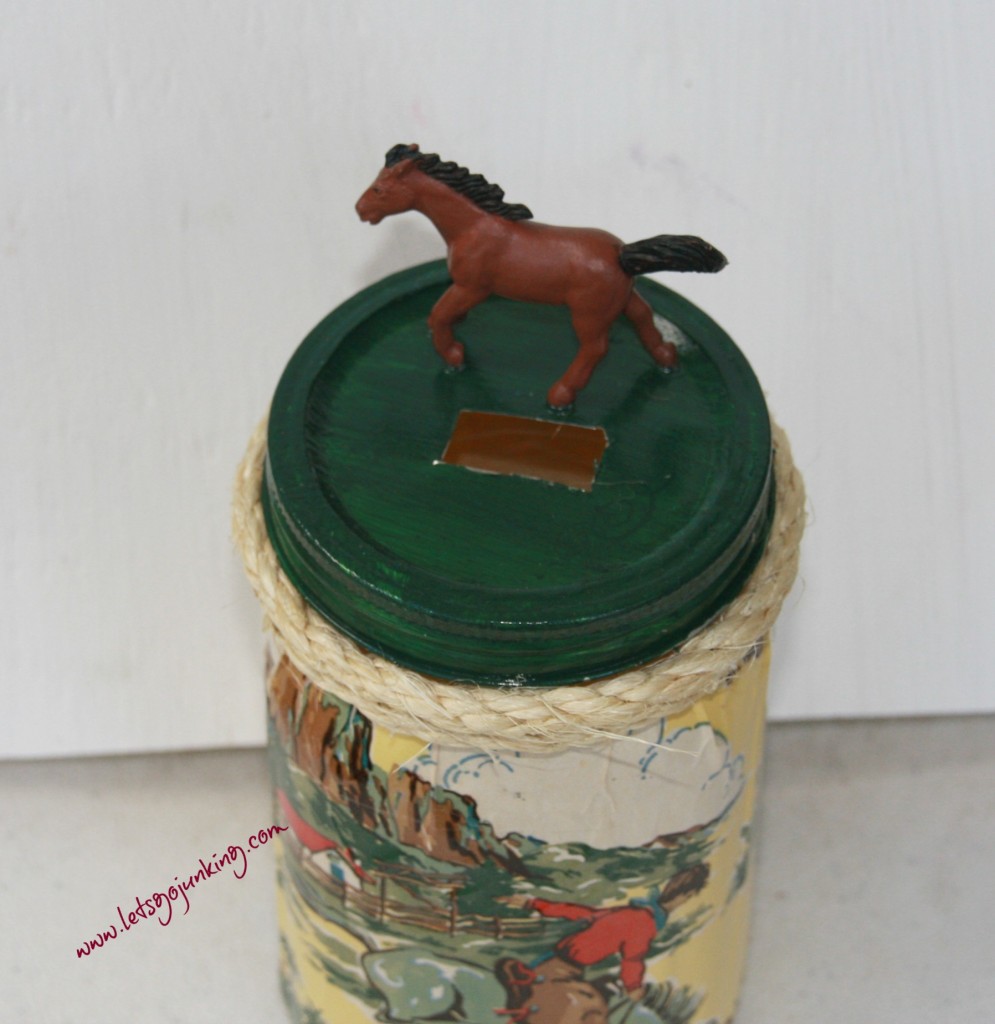 This idea can be modified for any theme.  Dinosaurs, Super Heroes, House, Motorcycle or Trucks and Shoes (my Mom would have loved one of those).  Could be a great gift for someone you know that is saving for something special.
I'm looking at my finished Mason jar thinking – "Most people are going to think this is so easy – not much too it."  But you know what?  There is so much to this jar!  The memories behind it and the motivation in front of it.  I added a little tag to my jar to remind me of why I needed to put my spare bills in there.  The photo states "A horse without a rider is still a horse, but a rider without a horse, is only a human."  I don't want to just be a human.  I want to be a human that can fly and I can only do that on the back of a horse!